Main Content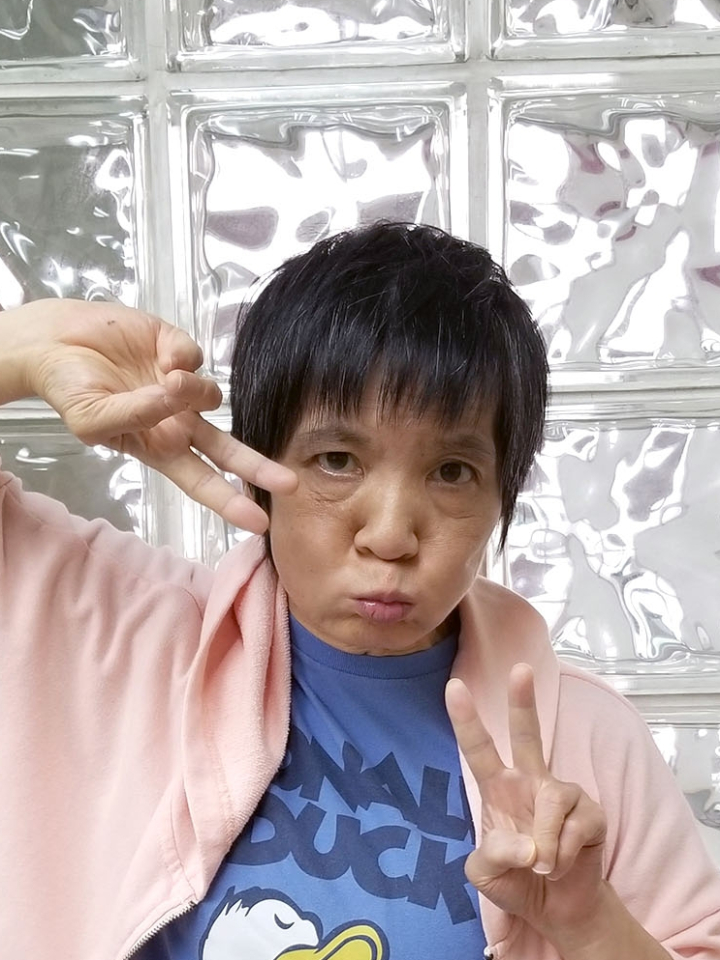 LO Siu-kuen
Strong Expressionist
"The bold and distinctive artistic style is just like one's pleasure and hatred on the face, expressing the inner feelings strongly."
Siu-kuen is keen to express herself and observes in detail. She loves painting portraits, landscapes, apparel and daily articles. Each forceful stroke left a trace in her artworks without hesitation. Dense lines were closely placed to each other. The contrast among colors was big and even unconventional. Portrait could be in purple skin and green hair with many brown lines.
The intense colour contrast is loaded with her personal emotions. Her emotions will be felt by watching her paintings in the varied styles. Her delicate strokes are traces of her performance. She blends her day to day flow arts into the paintings. The paint brush enlivens and bounces on the paper in a rhythmical way bringing forth a style so different from the others.
Siu-kuen finally found the meaning of creation, that was, solely to express matters about herself. This is not a competition about who is superior and who is inferior. In the fourth year of the course, she placed herself in a space in the classroom. Quietly, she finished pieces of artworks one by one. In the end, she was awarded the "Kagezami" prize of the Diversity in the Arts, Japan, which affirms her achievements in creativity.
藝術經驗 Art Experience
2017

亞洲當代藝術展 2017

Asian Contemporary Art Show 2017

2018

「愛不同藝術 第二屆 藝術課程 (四年) 年度展」於 牛棚藝術村

i-dArt The 2nd Art Course (4-Year) Annual Show at Cattle Depot Artist Village

2019

為星期日明報專題「七情上面」繪畫插圖

Illustration for feature article at Sunday Mingpao

日本大阪藝術交流團

Art Exchange Tour in Osaka, Japan

「問題行動」表演,於日本大阪豐中市文化藝術中心 (豊中市立文化芸術センタ)

Performance "BEHAVIORAL PROBLEM" at Toyonaka Performing Arts Center, Osaka, Japan

「畫景 – 展能藝術家作品聯展」

Paintscape – An Exhibition of Works by Artists with Disabilities

藝文薈澳:「三種日常-日港澳藝術聯展」

Art Macao: "Three slices of Life – Joint Art Exhibition: Japan, Hong Kong & Macao"

愛烘焙餐廳「台南巧美味」展特邀藝術家
Featuring Artist at VERY DELICIOUS TAINAN, iBakery Gallery Cafe

日本財団 DIVERSITY IN THE ARTS 公募展 2019 —評審大獎「藏座江美獎」

The Nippon Foundation DIVERSITY IN THE ARTS International Art Competition 2019 –Emi Zouza Award

2020

畢業於「愛不同藝術 第二屆藝術課程 (四年)」

Graduated at i-dArt 2nd Art Course (4-Year)

愛不同藝術胡李名靜藝廊「我是這樣畫畫的」聯合展覽

Joint exhibition "I Draw this Way" at Kitty Woo Gallery, i-dArt