Main Content
Keep Learning and Playing at Home- Portrait painting decoration DIY
31 March 2022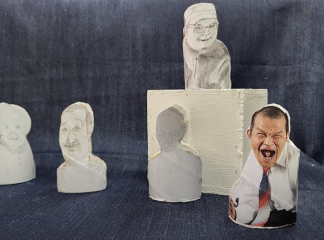 Let us Introduce our artist Cheung Ka-cheung through hand-making. He was a table tennis player when he was young. He once represented the Hong Kong team in the Seoul Paralympic Games. Later, due to the deterioration of muscle strength of lower limbs, he started his life as an artist.
He has been weak in verbal expression since childhood, but every painting by Ka-cheung contains thousands of words and feelings. He is a very persistent person, and every time he draws, he needs to work very hard to control his hand muscles.
Even though this drawing process is very difficult and takes several months to finish, it always brings him great happiness, success and confidence.
Ka-cheung is mostly in the rehabilitation complex. He likes to drive his own "private car" (electric wheelchair) around the complex, observing people and things around. He once drew a map to tell us where to build escalators so as to get to the city center faster. It is also suggested that additional floors should be built to serve more people. It can be seen that Ka-cheung is full of love and fantasy and secretly takes care of everyone.
Ka-cheung also has a wish to improve his painting skills. He will come to the school to teach children and let more people enjoy art.